Increase in food prices, others push October inflation to 40.4 %
Increases in food prices; housing, electricity and fuel, and three other divisions pushed inflation for the month of October 2022 to 40.4 %.
This means the cost of credit is expected to go up further as the Bank of Ghana is set to take a decision on the policy rate – the rate at which it lends to commercial banks- by November 25, 2022.
The food inflation recorded the highest rate among all the components as against non-food inflation, according to figures from the Ghana Statistical Service. The increase by food inflation indicates a jump of more than 3% from the previous rate of 37.2%.
The other four divisions are Housing, Water, Electricity, Gas and Other Fuels (69.6%); Furnishings, Household Equipment ad Routine Household Maintenance (55.7%); Transport (46.3%) and Personal Care, Social Protection and Miscellaneous Goods and Services (45.5%).
Food inflation was 43.7% in the month of October 2022, compared with 37.8% in September 2022. It has bigger weight than the above divisions.
Eight subclasses in the food inflation group recorded higher rates. This was distantly led by Water (64.3%) followed by Milk, Other Dairy Products and Eggs (58.9%) and Sugar, Confectionery and desserts (54.6%).
Also in the case of month-on-month food inflation nine subclasses record rates higher than the national average. Milk and Other Dairy Products and Eggs recorded the highest, 7.8%.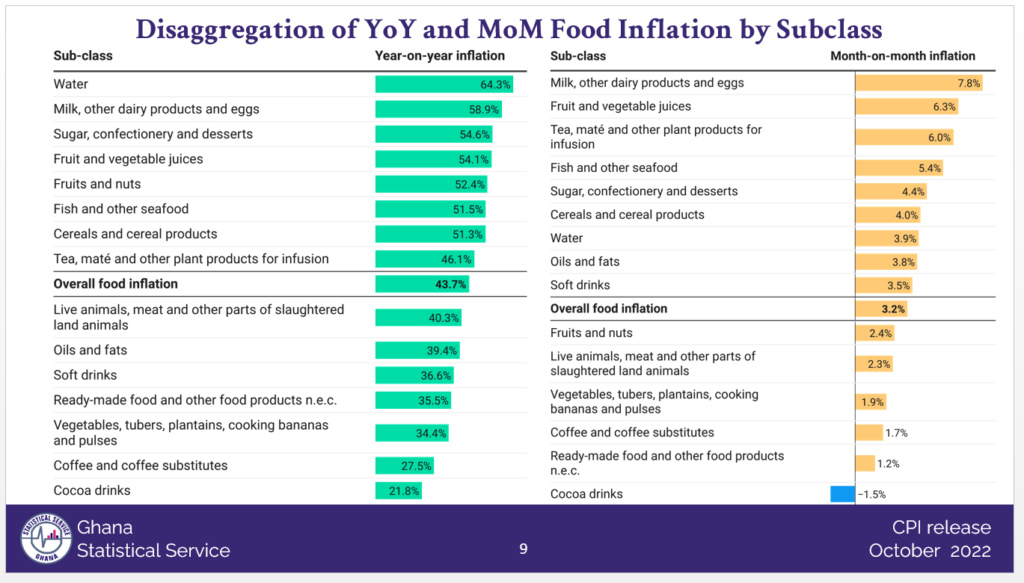 Non-food Inflation was however 37.8% in October 2022, from 36.8% recorded in September 2022.
Addressing the media, Government Statistician,  Professor Samuel Kobina Annim explained that all items in the component for calculating the rate of inflation recorded an increase.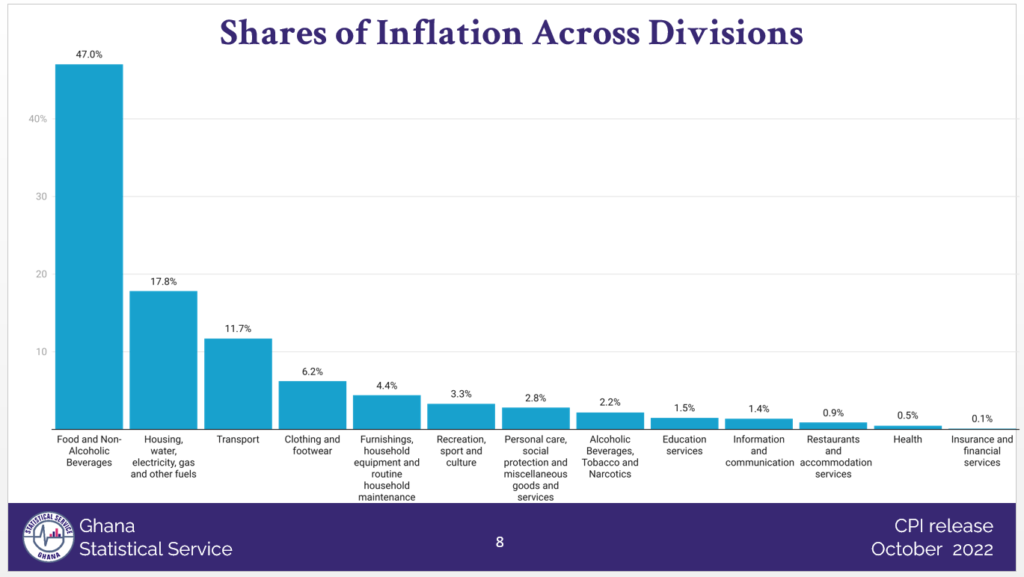 Inflation for locally produced items was 39.1%, whilst inflation for imported items was 43.7%.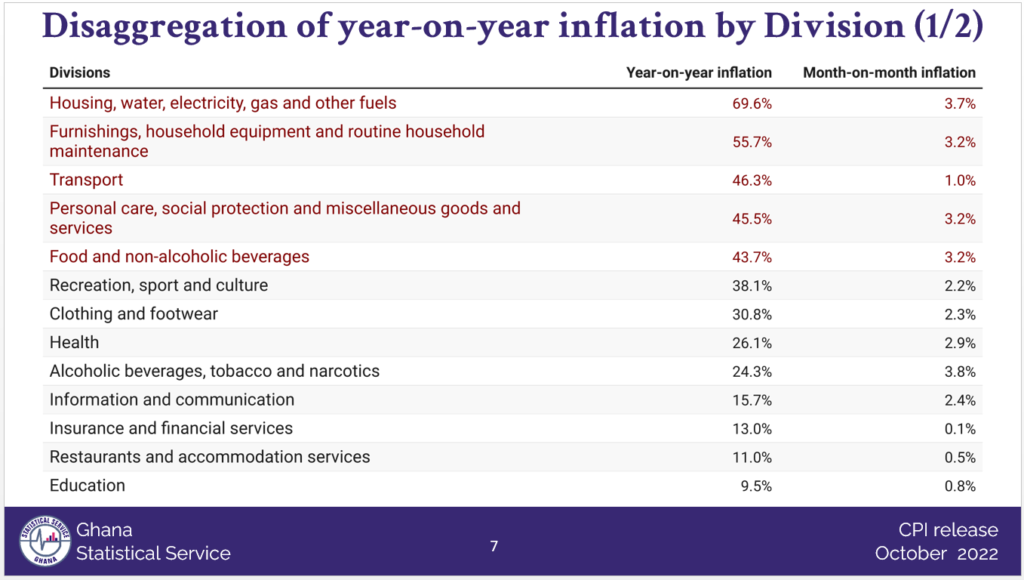 Eastern region records highest inflation rate
Eastern Region recorded the highest inflation of 51.1% in Ghana in October 2022.
It was followed by Greater Accra region (49.1%) and the Savannah region (47.6%).
The region with the least inflation was Volta (25.8%).
The Central Region (57.9%) recorded the highest food inflation while Greater Accra recorded the highest non-food inflation (53.2%).