Gold Mafia: We won't retract or apologise to Akufo-Addo – Al Jazeera
International media organisation Al Jazeera says it will not apologise to President Akufo-Addo over its recent investigative documentary, 'Gold Mafia'.
Al Jazeera said it does not owe the president nor his office any apology since it did not allege the issues raised in the letter from the Jubilee House demanding a retraction and apology.
The Doha-based company made this known in a reply to JoyNews' Kwaku Asante's email on Thursday, May 4, requesting a copy of its response to the presidency over the matter.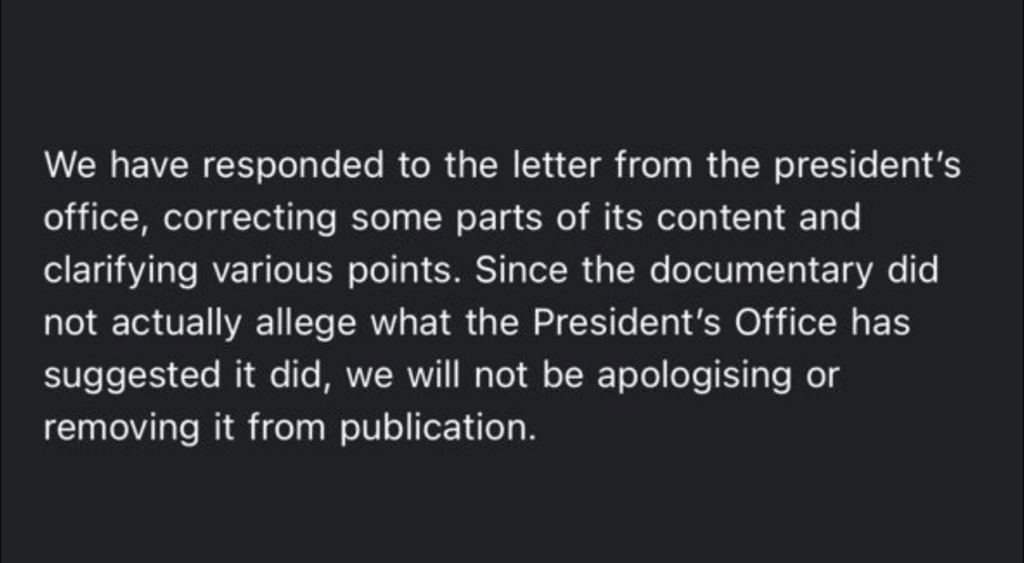 "We have responded to the letter from the president's office, correcting some parts of its content and clarifying various points.
"Since the documentary did not actually allege what the president's Office has suggested it did, we will not be apologising or removing it from publication," excerpts of the Al Jazeera response said. 
However, it did not share copies of its response to the presidency stating it's confidential.
"Our reply to the president's office was by way of a confidential letter," the reply concluded.
The Jubilee House, in an April 25 letter, demanded an unqualified apology from Al Jazeera over its depiction of President Akufo-Addo in its damning documentary.
The letter signed by Secretary to the President, Nana Bediatuo Asante stated that; "I am instructed by the President of the Republic, Nana Addo Dankwa Akufo-Addo, to demand formally that Al Jazeera Media Network (Al Jazeera") retract immediately and apologise for airing an inaccurate and unfair documentary that contained spurious and unsubstantiated allegations against the President and the Government of Ghana."
But Al Jazeera stated that it has corrected and also clarified some of the contents in the letter from the Jubilee House.
How Ghana Appeared in Al Jazeera's 'Gold Mafia' Documentary
Earlier in April, Ghana popped up in a damning investigative documentary conducted into some of Zimbabwe's gold smuggling and money laundering syndicates.
In the concluding episode, undercover journalists posing as Chinese gangsters interact with one of the key parties, Alistair Mathias to help clean their dirty money.
Mr Alistair who is described in the piece as a Financial Architect told the reporters posing as criminals that he had a track record of successfully orchestrating such syndicates.
Essentially, he is said to be instrumental in designing money laundering schemes for many corrupt politicians in Africa.
Alistair named Ghana as one of the countries where he had executed similar schemes adding that he is good friends with its President who he also claims used to be his lawyer.
"Ghana's President is a good friend of mine, in fact, he was my lawyer," he told the undercover reporters.
Mr Mathias added that he used to be the biggest smuggler in Ghana at one point, raking out about $40 million to $60 million worth of gold a month from the West African country.
During the documentary, Alistair outlined his modus operandi to the undercover journalists suggesting that the most important credential of his operations in Africa comes from the trust that some dubious politicians have in him to keep their siphoned resources safely tucked away.
He revealed that in doing this, the politicians involved do not keep assets in their own names, but rely on proxies.
Citing government infrastructure as an example, he indicated that he is able to take huge contracts on behalf of Ghanaian politicians, inflate the cost and subsequently split the profit afterwards.