Failure to repay mobile money loans will affect your creditworthiness – BoG warns
Defaulters of mobile money loans have been advised to make repayment plans with their service providers or risk facing stiffer consequences that could deny them access to credit facilities in the future.
According to the Bank of Ghana (BoG), individuals who have deliberately decided to not repay loans acquired from their service providers will suffer negative repercussions on their credit reports and history.
It has emerged that some individuals who have acquired loans through mobile money platforms have refused to register their SIM cards in order to avoid repaying the loans.
Others have equally bought and registered new SIM cards, and discarded the old ones "with the intention of avoiding repayment of the acquired loans."
"Bank of Ghana wishes to inform the general public that data on all mobile money loans customers are domiciled in the databases of credit bureaus.
"As a result, failure to repay such loans will attract negative repercussions on borrowers' credit reports/history and could subsequently adversely affect any chance of obtaining loan facilities from other financial institutions and credit providers in future.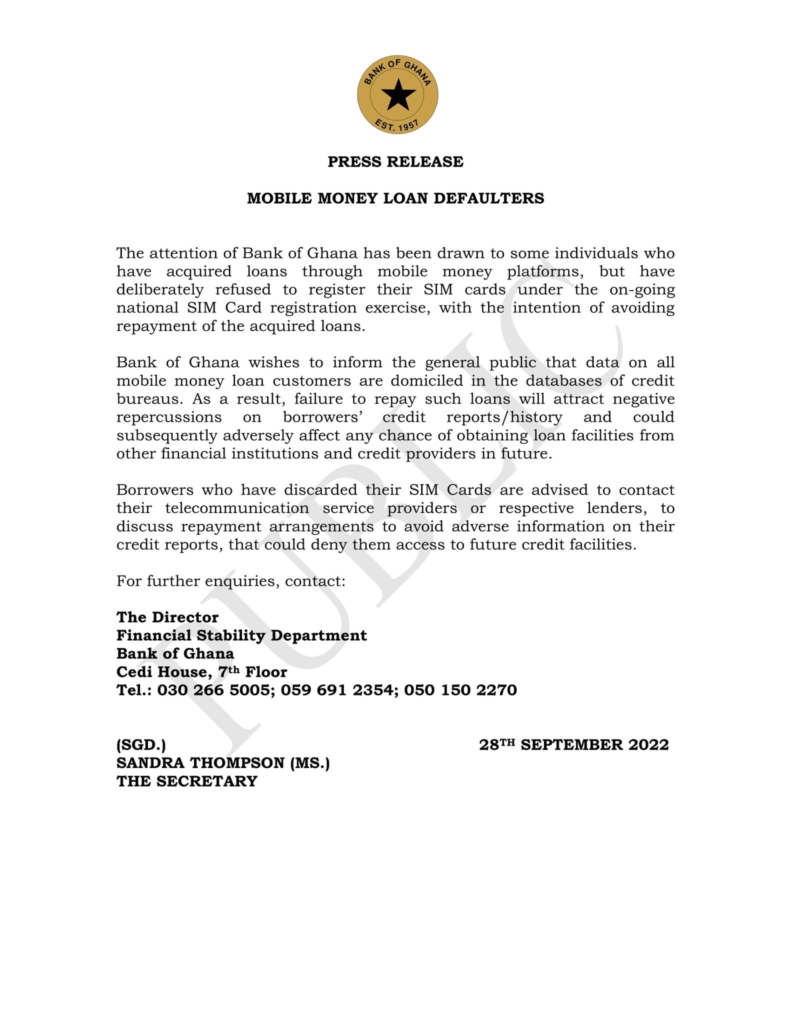 "Borrowers who have discarded their SIM cards are advised to contact their telecommunication service providers or respective lenders to discuss repayment arrangements to avoid adverse information on their credit reports that could deny them access to future credit facilities," the Central Bank stressed in a statement on Wednesday.
The Communications Minister, Ursula Owusu-Ekuful, earlier rebuked persons who have obtained quick loans and have refused to re-register their SIM cards to avoid payment.
In an address on July 31, 2022, she noted that such "evil corruption" acts would be found by authorities.
"I have also been informed that some people who have obtained quick loans from their service providers have decided not to register those SIMs to avoid repaying the loans. That is evil corruption and you will be found out," she warned.
The SIM card re-registration exercise is set to end on Friday, September 30, 2022, although there have been a number of suits filed against the Ministry over the manner in which it is being carried out.