Erling Haaland is more than Cristiano Ronaldo, Zlatan Ibrahimovic & more superstars combine
It may have been a Manchester derby but to Erling Haaland it was just another game and another record broken.
His three goals in the 6-3 thrashing of Manchester United at Etihad Stadium ensured he became the first player to net three successive hat-tricks at home in the Premier League.
The 22-year-old is so used to scoring – and scoring hat-tricks – that he nonchalantly put his arm around team-mate Phil Foden in their post-match interview and joked they could have a match ball each after the Stockport-born forward also netted three against United.
Former United and City goalkeeper Peter Schmeichel told BBC Radio 5 Live you could "see different players in Haaland" and he is like the "top strikers all in one".
"The biggest part of a good striker is patience. I played against some of the best strikers and when they go missing is when you really have to concentrate," added Schmeichel.
"The Cristiano Ronaldos, the Filippo Inzaghis of this world – they disappear then all of a sudden they get the chance.
"When you look at Haaland, you see different players. That Zlatan-like goal, and Ronaldo is in there too. You see top, top strikers in one.
"That is why he is so dangerous. He has the luxury of seeing many top strikers and they are all put into one player."
Haaland now has 14 goals from his eight Premier League games, double the total of Harry Kane who stands second in the top scorers list.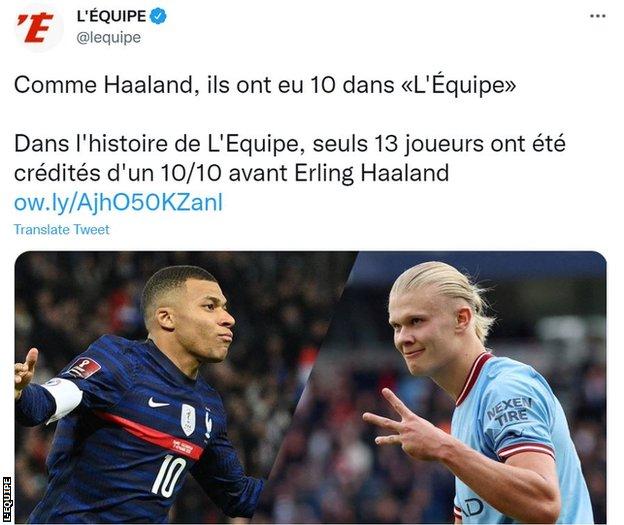 French newspaper L'Equipe is known for its harsh player ratings, but gave Manchester City's Erling Haaland a mark of 10/10 on Sunday – only the 14th player to get full marks in the paper's history of more than 40 years.
'The numbers are scary'
"Yeah, not bad" was how Haaland responded when Sky Sports asked him about his performance in the derby.
"We scored six goals. What can I say? To win at home, score six goals, it's nice. In the end, it's amazing. There is nothing more to say," he added.
It has often been "nice" for Haaland since joining City, and manager Pep Guardiola says his scoring statistics are "scary".
"The numbers speak for himself. He has done this before here. It is not just our way. Always we try to help him in our environment," said Guardiola.
"We have this incredible sense that he always looks starving and is so competitive. The numbers are scary."
Haaland's latest hat-trick took his tally to 17 goals and three assists in his past 11 games.
He has already scored three more in his first eight Premier League matches than Mick Quinn, Papiss Cisse and Diego Costa's previous record after 10 games.
His nine goals in his first five matches made him the top scorer in August of any Premier League season.
The Norway forward was also the first player to score in his first four away games in the Premier League and he is the youngest player to score 25 goals in the Champions League.
"I've never scored three hat-tricks in three home games before. It's amazing," Haaland told BBC Radio 5 Live.
"Confidence is good, it's always been good. After the Community Shield [defeat by] Liverpool, it was still good. It was good that this match happened and I knew I just have to be ready.
"I felt a couple of days before the Manchester derby that something special was going to happen and some special things happened so it's nice. It's these games I want to play in."