Coolio: Michelle Pfeiffer and Snoop Dogg lead tributes to Gangsta's Paradise rapper
Stars including Michelle Pfeiffer and Snoop Dogg have been paying tribute to the US rapper Coolio who has died at the age of 59.
He was found unresponsive on the bathroom floor of a friend's LA house, his manager Jarez Posey told US media.
Coolio, whose real name is Artis Leon Ivey Jr, won a Grammy for the 1995 track Gangsta's Paradise, which led the soundtrack for Dangerous Minds.
Pfeiffer, who starred in the movie, said she was "heartbroken" at the news.
The exact cause of his death on Wednesday has not yet been revealed.
However Mr Posey told TMZ, which first reported the news, that paramedics believed he may have had a cardiac arrest.
Pfeiffer said she thought Coolio's track was the "reason our film saw so much success" and that she still gets "chills" whenever she hears it.
"Heartbroken to hear of the passing of the gifted artist Coolio," she wrote on Instagram, sharing a clip from the famous music video, which sees her sitting across the table from Coolio as he raps.
"A life cut entirely too short," she continued. "I remember him being nothing but gracious."
Dangerous Minds saw Pfeiffer play an ex-Marine who becomes a teacher working on a pilot program for teenagers who are bright but underachieving, in a tough, inner-city school.
Coolio's haunting track from it, which samples the Stevie Wonder song Pastime Paradise, continues to be widely listened to and has just passed a billion streams on Spotify, according to his official website.
It begins with Coolio reciting a line from the bible – "As I walk through the valley of the shadow of death" – before spinning off into a wide-ranging rap that finds him questioning the actions of those around him and wondering if he will "live to see 24".
The film grossed nearly £85m (£78m) worldwide and the track became the biggest-selling record of the year in the US, in 1995, and Coolio was awarded the Grammy for best rap solo performance.
Snoop Dogg shared a picture of the two posing on the set of the music video for Gangsta Walk, a track they collaborated on in 2006.
Fellow rapper and actor Ice Cube said: "This is sad news. I witness first hand this man's grind to the top of the industry," while Vanilla Ice tweeted: "I'm freaking out I just heard my good friend Coolio passed away,"
Rapper MC Hammer described Coolio as "one of the nicest dudes I've known".
"Good people. RIP Coolio," he wrote, sharing a black and white picture of the rapper, and later posting a second picture of the pair together, along with Tupac and Snoop Dogg.
Oscar-winning musician Questlove simply tweeted: "Peaceful Journey Brother."
Rapper Flavor Flav said he and Coolio had been due to "perform together this Tuesday", saying his friend was "the West Coast Flavor Flav… He loved telling everyone that."
Singer Debbie Harry paid tribute by saying: "Rest in power", while rapper LL Cool J wrote the same message, along with "Love & Respect". Musician Al Yankovic posted a picture of himself with the late rapper.
Coolio started making music in the 80s, but he cemented his place in hip-hop history when he recorded Gangsta's Paradise, which went on to become one of the most successful rap songs of all time.
A leading figure in the US West Coast rap music scene in the 90s, Coolio was born in Pennsylvania, but grew up in the LA suburb of Compton, where his career flourished.
He rejected the label gangster rapper, and instead embraced the role of an all-round entertainer.
A talented producer and actor, he appeared in dozens of films and TV shows, including Celebrity Big Brother in the UK in 2009.
And he even found an outlet for his love of food with a book and internet series, Cooking with Coolio.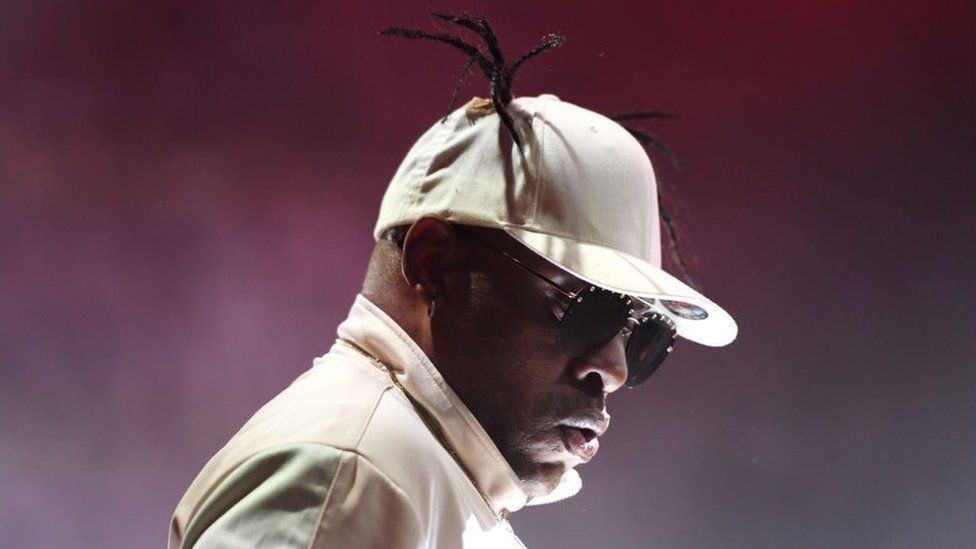 Over a career spanning four decades he recorded eight studio albums and won an American Music Award and three MTV Video Music Awards.
His other hits included Fantastic Voyage, Rollin' With My Homies, 1, 2, 3, 4 (Sumpin' New), and Too Hot.
He was active right up until his death – Coolio was in the middle of a tour with other 90s stars including Vanilla Ice and Young MC, and they performed in Texas just a few days ago.